Rodrigo Alves: "We are as Catalan as Vilaweb or any page in Catalonia"
20 July 2020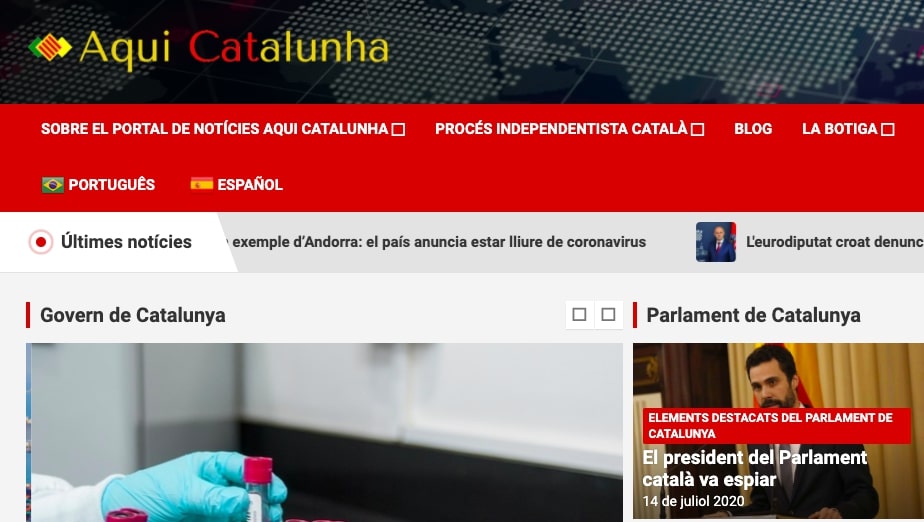 We talked to the creator of Aqui Catalunha, a Brazilian media about Catalan current affairs.
Tell us about the Aqui Catalunha project.
Basically, Aqui Catalunha is a pioneering news portal in Brazil. It is the first media exclusively related to Catalonia. There is nothing like it in the world. It was created in February 2018. It is a news portal on Catalan politics, economy, sports and culture.
And what is your relationship with Catalonia?
I have never set foot on Catalan soil. And I learned Catalan online, with Parla.cat, but also by reading things on social media, listening to the radio, watching Catalan television shows, and I also have Catalan friends. I have also learned by chatting with them via WhatsApp or Skype. I have never been to Catalonia, I would have liked to do it this year, but now with the pandemic it is impossible.
And what makes someone from Brazil, who has never been to Catalonia, learn Catalan?
In Brazil, there is a Catalan club, the Associação Cultural Catalonia, but there is no language school as such. I got interested in the language by reading about Barça. I like football and Barça. Around 2007, I started to learn Spanish, and little by little I got to know other Barça fans around the world, who told me stuff about Catalonia and Catalan. I found it very interesting and got into it. After a few years, I started doing translations, nothing professional, but it helped.
Aqui Catalunha is part of the Associació de Mitjans d'Informació i Comunicació (Association of Information and Communication Media – AMIC). What is it like?
Ever since I founded Aqui Catalunha I thought that we had to be part of an important network. We are a pioneering project in Portuguese both in Brazil and America. I looked for a media network to integrate with and go public throughout the Catalan-speaking world, and I found AMIC last year. I contacted Josep Ritort [the Association's secretary general] and sent him a message explaining the project. Then I included translations into Catalan, English and Spanish to make the website known in Catalonia and the world. This news portal was not created by a Catalan, even though I feel Catalan in my heart and head, but I recognise that language is an essential element of a culture.
How many people are behind Aqui Catalunha?
A few weeks ago, I hired three people. Until then, I ran Aqui Catalunha by myself. I worked as an editor, proofreader and translator. But that was not good. We cannot be a reference portal with just one person who is in charge of everything. Once the conditions were met, I hired some collaborators. I needed someone who was aware of everything that was happening in Catalonia in the political or cultural sphere. Someone who, like me, read everything that is happening in this region. Two of the people I signed up are Catalan, one of whom now lives in Brazil and collaborates by reviewing the Catalan versions. And his Brazilian partner, who has lived in Barcelona and is in charge of posts on Instagram. On other social media, such as Facebook, we already have more than 7,000 followers. Mostly Brazilians.
Why did you decide to have a .cat domain?
It was an obvious decision. It was possible to have the Catalan version without having a .cat domain, but we are as Catalan as Vilaweb or any page in Catalonia. Everyone has their own little projects and dreams, and my little dream was to have a .cat domain.